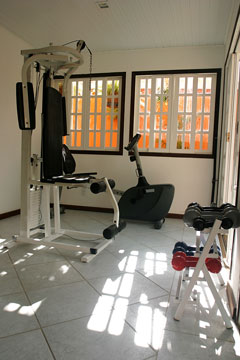 When designing and setting up home gyms, convenience should be a key factor. Think about the reasons why you enjoy going to the gym. In most cases, all the exercise equipment you need is right at hand. You have easy access to weights if you want to focus your workout on building strength, but you can just as easily hop on the cardiovascular equipment if that strikes your fancy. Your goal, when building a gym in your home, is to replicate that convenience. If your gym is not easy and convenient to use, chances are you won't use it! And while you might not be able to fit tons of exercise equipment in your house, a well-planned home gym can yield excellent results.

So where to start when creating your home gym? At the very least, a basic home gym comprises an exercise ball and a set of weights, plus a step bench and some exercise videos or DVDs. You can get a good workout at home for very little money with a jump rope, some room to run, a good set of stairs, and some weights. Or you may want to pull out all the stops and purchase equipment such as exercise bicycles, weight benches, and treadmills.
Multi-Station Home Gyms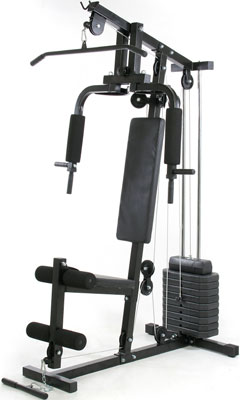 Rather than buying several fitness machines, many people are opting for multi-station home gym equipment, which enables users to perform a variety of exercises on one compact exercise machine. But with all of the choices out there, how do you know which gym equipment to buy?

Multi-station home gyms provide health club quality strength training in the comfort of your home. Each home gym model features the ability to do a different set of exercises, and offers a strength building workout for the entire body. As the name implies, multi-station home gyms enable more than one person to work out at once.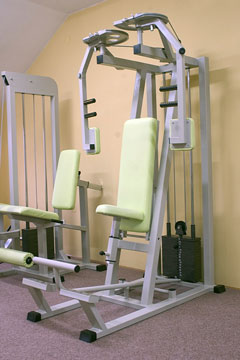 Look for equipment that has a natural resistance feel and uses weight racks rather than relying on bands or bows. A good machine should have at least 150 to 200 pounds of weight available. Good quality cables and pulleys are important to ensuring longevity. Finally, look for a gym that has ergonomic features. The location and shape of the pad, pop pin and pivot point should feel comfortable and natural.
Most home gyms enable you to perform twenty to thirty different exercises, but the lower-end gyms often require adjustments and cable rearrangements between sets. Quality home gyms usually have a bench press station, a cable station, an ab crunch station, low and high pulley stations, a leg extension and curling station, and a leg press station. Each station can be used for several different exercises.
HomeGyms.us features convenient access to popular fitness equipment suppliers and home gym manufacturers. Here you can review gym manufacturer specifications and shop online for the latest in home exercise equipment.
Home Gym Manufacturers
Related Gym Equipment Sites
Exercise Bikes - stationary exercise bicycles.
Ellipticals - elliptical cross-training machines.
---
Copyright 2003-2023 Zeducorp.
All rights reserved.
About us
.
Contact us
.
Search
.
For your convenience, certain links will open in new windows.
Home Gyms - Home Gym Equipment
Recent Gym News
The best kettlebells 2023: for weightlifting, home workouts and gym
The best kettlebells for weightlifting, home and gym workouts, including Onnit, kettlebells for grip and the best kettlebells for CrossFit.
Toms Guide. Wednesday, 09 Aug 2023 10:26:30 +0000.
Mac TA lament lost opportunity vs Monaco as home-court advantage proves vital
There are tough courts to call games and Monaco understood that it needed to ratchet up the music a notch to give its home gym a real home town feel.
Jerusalem Post. Sunday, 14 May 2023 15:21:30 GMT.
Lori Vallow's brother tried to kill their niece's estranged husband in drive-by shooting plot
Brandon Boudreaux was returning home from the gym when a bullet ripped through the driver's side door of his Tesla in Gilbert, Arizona, on October 2, 2019.
Daily Mail. Thursday, 04 May 2023 21:30:03 GMT.
---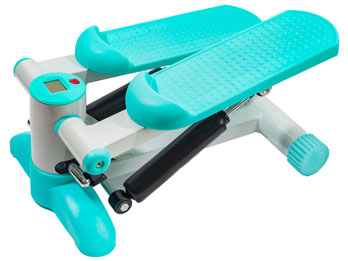 Stair Stepper with Teal Steps and Accents